2021 brought a number of trends and challenges to the table for small business owners across the globe. As the Covid-19 pandemic prevailed, 2021 was another year of increasing adaptability and flexibility within the workplace.
As we reflect on 2021's business trends, read on to find out about the 5 key takeaways that entrepreneurs should prioritise as we move into 2022.
The Importance Of Marketing Post-Pandemic
2022 is expected to see a sharp increase in social media spending. After the repercussions of the 2020 pandemic sent many e-commerce-based businesses online, digital marketing spending was at an all-time high in 2021.
Predictions from the insurance firm, Finaria estimated that ad spend increased by 15% in 2021 alone, suggesting that as the 'online consumer' continues to become the new priority, entrepreneurs need to have their marketing budget ready to go in 2022.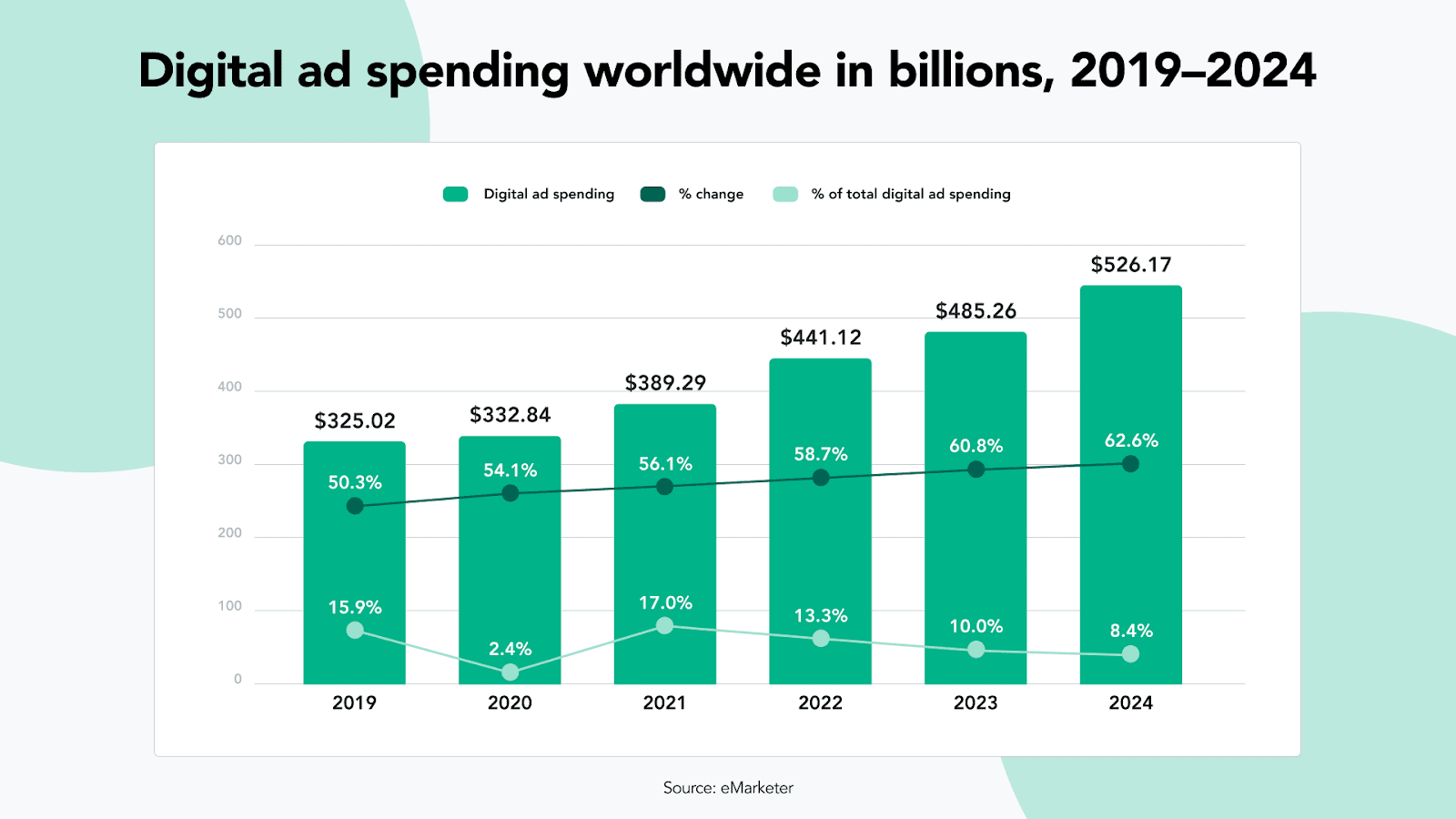 (Image Source: Invoca)
As you can see here, digital ad spend is continuing to increase across the globe, estimated to reach an all-time high in 2024 of $526 billion according to Invoca.
In order to remain on top in 2022, business owners need to prioritise their marketing strategy. It's time to increase both SEO and social media efforts, with a large focus on the new social platform ruling the social media scene, Tiktok.
Tech officer at Mindshare, Jack Smyth suggests that Tiktok will be 2022's smart marketing platform, and the one to focus marketing efforts into.
"Culturally, TikTok is well placed for live-streamed commerce to capture the dissolving distinction between content and commerce because it doesn't feel as polished as other platforms" He claimed in a recent SM Week Interview.
2022 will be the year of content creation and integrated marketing, as business owners battle to grab the attention of Gen Z.
Remote Working Trends
Entrepreneurs also need to take into account flexible working patterns as work from home schemes still continue to prosper in 2022. In fact, the 2020 pandemic saw WFH increase to an average of 37% and as workplaces continue to become digitalised, this number is only expected to increase.
Therefore, Entrepreneurs can takeaway that remote work will play a large role in the future of business practice, meaning that in 2022, business leaders must focus on creating a strong and stable virtual environment for their employees.
From ergonomic care to investing in new WFH-based communication tools such as Slack and Monday, entrepreneurs who want to expand remotely need to prioritise creating a productive environment from home.
In fact, a recent report by Leesman suggested that a WFH future could actually be the key to improving business productivity, and reducing overhead costs for small company start-ups.
In their home working report, they found that the average business will require less space in the future, thanks to new digital alternatives paving the way for a virtual office experience.
Adaptability Is Key
As we move into 2022, business leaders will still need to remain adaptable as the pandemic continues to present an uncertain future for many corporate and e-commerce based businesses.
2021 was the year of adaptability. Rising off of the back of the 2020 lockdown, business leaders needed to adapt to the requirements of a newly digital audience, and change their content to align with Covid-19 regulations and new sustainable values adopted by a genzenial demographic.
Looking forward into the next year of business, entrepreneurs need to be ready to create content that aligns with an ever-changing audience. Leaders need to be able to think on their feet and continue to adapt to new corporate and e-commerce market trends as Covid-19 continues to transform the world around us.
The Future Of Funding
Business funding also took a turn in 2021, leaving business leaders with more options for acquiring alternative sources of capital in order to keep company assets solvent during uncertain times.
As more opportunities for grants, fintech development and venture capital came into play, start-up entrepreneurs have begun to connect with more investors and donors during the 2021 financial climate.
Looking forward to 2022, entrepreneurs should look into blockchain's growing capabilities within the funding and trading market. As a decentralised form of money movement, peer-to-peer trading is set to become more efficient in 2022.
Authenticity & Sustainability
Transparency within the business is also a large takeaway from 2021. As a digital native demographic continues to become smarter regarding company research, entrepreneurs need to work on their authenticity in the new year.
On the back of 2021's influential COP26 meeting, sustainable branding has also begun to dominate the marketing and advertising sector. Consumers now require meaningful connections with brands, that speak to their values and prioritise sustainability post-pandemic.
Entrepreneurs in 2022 will need to revamp their marketing efforts and take a closer look at their company values if they want to remain on top of a new ethical market.