In late February of this year, he began blogging with zero knowledge of blogging. Today Jonathan Phillips, the friendly persona behind the Smart Wealthy Rich blog receives hundreds of comments per week from avid readers who just can't seem to get enough of his very personal, yet professional and useful posts.
For anyone thinking about starting a blog, frustrated by what may seem like a monumental task of establishing a foothold in the crowded blogosphere, Jon's is a success story that you can't afford to miss.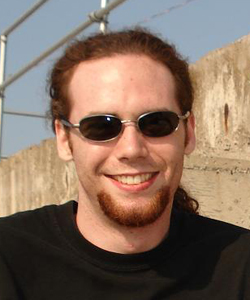 Jon lives his life doing exactly what he loves. When I first talked with him, he was in the studio recording tracks for his first album with laptop in tow for the purpose of responding to his reader's comments. He is adamant about replying to every single one no doubt one of the reasons why a typical post is followed by somewhere between 30 and 100 comments.
His story began with a dream that had absolutely nothing to do with blogging. Two years ago, Jon quit his job working for 5 years in sales and marketing for an internet service provider to follow his passion for music. He quickly learned that a budding career in music doesn't pay the bills (although it certainly can and no doubt will for someone with Jon's tenacity and history of success) and began a job in network marketing which he felt wasn't for him. After one year, he decided enough was enough and set out to find another source of income.
He had heard of a thing called blogging. He had heard of WordPress, so downloaded the software and gave it a go with no idea about how to attract readers, design a blog, or build a community. Five months later, his blogging is responsible for a large part of his income.
How Jon Went From No Knowledge of Blogging to Blog that Pays His Bills in Just 5 Months
Jonathan immersed himself in reading successful blogs. He became active on social networking communities like MyBlogLog (currently acquired by Yahoo) and Blog Catalog, meeting people, commenting on blogs, and soaking in an immense amount of knowledge.
The importance of social networking cannot be stressed enough whether in blogging or in any other area of life. As a new member to MyBlogLog, he added successful-blog to his friend's list, thinking the name sounded interesting.
He didn't know that the face behind a successful-blog was Liz Strauss, blogging guru and the originator of the infamous SOB badge. He didn't know that one of Liz's primary focuses is to take new bloggers under her wing, helping them to fine tune their blogs, and mentoring them in the ways of blogging, but that's exactly what she did. She helped him to fine tune his blog design and featured his blog on hers.
The design change was a remarkable improvement, but something was still missing.
10 weeks after the post appeared on successful-blog, Jonathan flew from his home in Montreal Canada to Chicago for Liz's SOBCon 2007 and that is where the real moment occurred that changed everything.
Until that point, Jon had been mirroring the voice and style of other successful bloggers. During a blog reboot session at SOBCon hosted by David Armano and Liz Strauss, someone said something to the effect of stop trying to look like a problogger be yourself and they will come. (paraphrasing here) The precise words weren't important. In that moment, Jon knew that a lack of original voice is what was holding his blog back.
When he returned home, he began to write posts from his heart, and that is when the transformation began. Instead of writing like an authority, he began chronicling his journey, tying his personal stories with topics of interest to entrepreneurs, bloggers, and others searching for success.
A post last week on content theft told of his personal experience when a blogger copied one of his posts without permission and has generated 61 comments so far. His top commented post written back in May titled 'If I Could Only Read Just 5 Blogs' generated an amazing 104 comments and is still collecting more.
How is Jon Generating So Many Comments when Others are Struggling for One or Two?
Jon is very serious about connecting with people. After attending the SOBCon event in Chicago, he decided that what he really wanted from his blog was to connect with people.
Each week, he surfs through MyBlogLog, BlogCatalog, or Stumble Upon in search of 5 or 6 blogs on marketing and entrepreneurship, adds them to his reader, reads them daily for about a week, leaves comments on posts that compel him, and keeps the blogs that he feels provide him with value.
Jon is not just focused on his blog. He is genuinely interested in meeting new people, reading their ideas, and contributing to their conversations. As a result, he has built an incredibly active community in a record amount of time.
Jon's Advice to New Bloggers
Find your own voice write from the heart
Respond to every comment
Write thought provoking posts and ask for opinions
Allow people to subscribe to comments when he added this feature, his traffic shot up dramatically
Participate in social networking communities
Some people measure blogging success by RSS readers or by traffic, but in my opinion, one of the hallmarks of a successful blog is the dialogue of its readers. Interestingly enough, by choosing not to mirror other successful bloggers and finding his own voice, Jon became just that a very successful blogger.
Every Tuesday, we feature someone in a NON-sponsored interview like you just read above. You can learn more about this interview by reading this page. If you would like to recommend someone (including yourself) to be featured, please e-mail Christine [at] Create Business Growth [dot] com and tell us the WHY behind your recommendation.