The World Wide Web is a vastly competitive online space, and with the emergence of Web3.0, it's only going to get busier. With this in mind, businesses can benefit from revamping their online presence by adopting one of Powered Template's eye-catching website design templates, which can be downloaded and edited to match different brands with ease.
It's fair to say that the rise of digital transformation has forced a number of changes and introduced many challenges surrounding the way that businesses operate online. With local companies seeking to recapture customers who began to make purchases online during the Covid-19 pandemic, the task of marketing your brand has become considerably more difficult throughout a number of industries.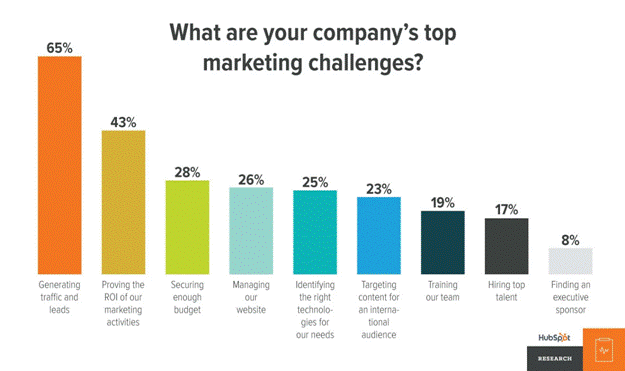 (Image: Venture Harbour)
As the chart above shows, website management and matters of financial management rank high among the top challenges facing marketing teams. Matters of generating traffic, which can also be remedied with the help of a correctly optimised website, remain a dominant challenge faced.
As more businesses migrate online, customer expectations grow. This competitive space means that it's not enough to simply build a website to leverage conversions, customers demand a frictionless buying experience, and to navigate websites that are simple and enjoyable.
The task of web development can be a daunting one for small businesses, but platforms like Powered Template offer an array of pre-designed website templates and elements that can actively boost customer engagement online whilst ensuring that you can maintain a consistent flow of traffic to your pages.
Building a Website Through Powered Template
For many small businesses, the prospect of outsourcing their web development needs can be a costly procedure and one that isn't always guaranteed to result in a website that completely ticks all the right boxes.
However, Powered Template empowers individuals in creating their own websites that suit a number of different goals. In fact, the platform offers a wide range of pre-designed templates that fit a number of specific focuses and themes.
As we can see from Powered Template's array of web templates and elements, there are a number of options that users can choose from to get their website set up. Each option is 100% customisable and can be compatible with a number of different markup languages.
Although Powered Template has 10,000s of free options for many different types of content, the platform's selection of website templates is reserved for premium members.
Significantly, Powered Template features a helpful rating system alongside the website's options. This can help users to understand the quality of the templates available to them.
One of the most valuable features that Powered Template has is the platform's intuitive features bar which updates in real time. As users look to whittle down their options in order to find an option that best fits their needs, their list of options can be reduced and expanded on demand instantaneously.
The range of filter options can help to display web design templates that are suitable for a range of categories, including business, commerce, landing pages, minimalist designs, photography, and portfolios.
Other menu options include the ability to sort templates by their various properties – enabling users to select only responsive or retina ready pages.
Choosing a Web Template
With Powered Template's intuitive menus, users can refine their options before selecting a design that suits their business needs.
When selecting a template, there's plenty of information available to help users to understand more about their choices.
In the template selected above, we can see who created the design, when it was uploaded, its reviews, and its compatibility.
In an excellent feature supplied by Powered Template, it's possible for users to interact with templates via the use of a live demo. These demonstration sites can be viewed and engaged with based on a desktop, tablet, or smartphone format.
The live demo feature allows users to take a closer look at a design and navigate their way through it as if it were an active website. This means that users can see some of the more complex features for themselves as well as imagining how the pages can be adapted to suit their business needs and branding.
Unlocking the Potential of Premium Membership
Because Powered Template's selection of website templates is accessible only as a premium feature, it requires users to create a paid account with the platform.
Powered Template offers a wide selection of different premium account types and even pay-as-you-go options that allow users to only pay for the content they want without having to lock themselves into long-term subscriptions.
Prices for subscriptions begin at $19 per month for access to a maximum of 100 downloads, whilst annual unlimited subscriptions range to $199 per year, which offers unlimited downloads and the ability to save directly to Google Drive or Dropbox.
For users who are only interested in using the platform on a more casual basis, Powered Template offers the option to only pay for the downloads accessed via an on demand function. This means that subscribers can buy 20 downloads over the course of the year for $39.95 and download them whenever they choose.
This option can be good for decision makers looking to build a website not only with Powered Template's selection of pre-designed web pages but also with the many other different contents and graphic templates on offer.
For businesses looking to grow their presence online, there are few options that are quicker, more efficient, and cost-effective than Powered Template.